One reporter's odyssey tracking his uncle's legacy in Laos
Lou Connick was a charming humanitarian who ran aid programs in Indochina in the 1970s – and moonlighted for the CIA. Just how far did he go in fighting communism?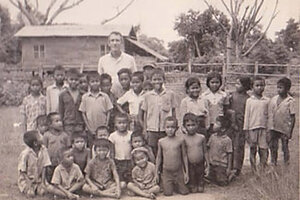 courtesy of vong pratana
I try to keep it simple. Heading for Laos from my temporary home in Indonesia, I want to pick up the trail of Lou Connick, my late globe-trotting great uncle who spent eight years working in the country in the 1960s and '70s. I'm hoping to visit his old haunts, meet relatives of his friends, and walk in his footsteps for a few days.
This is the place that filled endless photo albums at his old house in Old Lyme, Conn. – shots of long-faced Lou flashing his infectious crocodile smile at school dedications and water-pump tours deep in the Laotian hills. This is the place where his de facto extended family came from, people from Laos whom he helped resettle around Old Lyme. This Laos, he talked about longingly. This Laos he spied on?
While Lou led humanitarian efforts on almost every continent, he ran aid and development programs for the Asia Foundation and the US Agency for International Development (USAID) in Laos at the height of the American military presence in Indochina. As part of those postings, he worked for another organization there – the Central Intelligence Agency.
---