Iran takes goodwill tour to India
President Mahmoud Ahmadinejad stops in India Tuesday after visiting Pakistan and Sri Lanka on a trip aimed at inking energy deals and curbing the West's influence.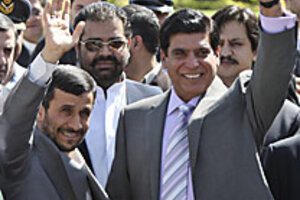 Mian Khurhseed/Reuters
President Mahmoud Ahmadinejad is taking Iran's outreach strategy to South Asia this week, with high-profile visits to Pakistan, Sri Lanka, and India aimed at making energy deals and curbing Western influence.
Mr. Ahmadinejad and Pakistani leader Pervez Musharraf said Monday – during the Iranian leader's first stop – that no barriers remained to signing a $7.6 billion pipeline deal that will provide both energy-starved Pakistan and India with natural gas.
But the biggest challenge on Ahmadinejad's latest goodwill trip to counter US influence and rekindle diplomatic friendships would be in India.
"Iran will undoubtedly be trying to woo New Delhi, especially now because India is a rising economic power," says M.J. Gohel, a security analyst and director of the Asia-Pacific Foundation in London.
---