Americans build elite Afghan commando force
The commando battalions, just a year old, are being trained and deployed nationally as a mobile, quick-reaction force.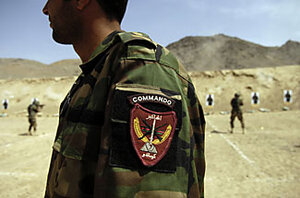 ANDY NELSON – STAFF
Pvt. Said Reza says he's ready to be a soldier in his country's fight against extremists, and as he stands in uniform in the middle of a training camp here with his semiautomatic rifle, kneepads, and American-style dark glasses, he looks the part.
Private Reza has already graduated from basic soldier training. He volunteered to become a member of an elite unit of the Army that is being groomed to become a model force of Afghan warriors.
"The only thing I know is that these [extremists] are a bunch of people who sell their country for a very small amount of money," says Reza of the extremists he expects to fight. When asked if he's ready to take them on, his answer is simple: "Bali ho" – of course.
Trained to be "the best of the best," who fight in riskier, more complex political and military environments – say, taking on a popular tribal leader aligned with the Taliban – the Commandos are distinct from the regular Army but are expected to help define the image and capabilities of Afghan security forces as a whole. The goal is an elite, quick-reaction force that can act independently. It's a crucial addition for an uneven US-NATO mission that many military and civilian leaders agree has evolved in a way that has let the Taliban resurface.
---