Linchpin in Afghan security: a better police force
The US is stepping up police training to change a force that has a reputation among Afghans as corrupt and often ineffective.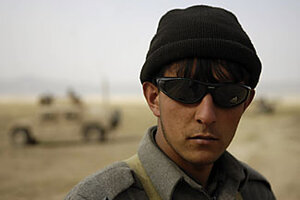 It took months to build the modest brick schoolhouse out here on the edge of these isolated flatlands, but only one night for militants to try to burn it down.
When Afghan police accompanied US police advisers to investigate the next day, they learned the attackers had succeeded only in temporarily sabotaging the project, tying up a handful of construction workers before burning the wooden window frames and a few wheelbarrows.
Moving around amid the charred steel and burned rubber, the local police attempted to interview witnesses inside the school's courtyard. But it was the US advisers working just outside the school who buttonholed the school principal to determine who might really have been responsible.
Such work is not the most sought-after assignment for American troops deployed to Afghanistan. But it has become a crucial one, as recognition emerges that the US has to step up the training of police as part of a broader effort to stabilize the country in the face of a resurgent Taliban.
Six years into the fight here, American and NATO forces say they have put the Afghan National Army on a track toward success. But the police – seen by some as more important to taming an insurgency – still lag far behind. Now coalition forces are trying to make up for lost time, and training the police has become a top priority.
The urgency of the task is felt by instructors here. The just-released annual US State Department report about the Taliban's impact, citing UN-compiled figures, said militants staged some 140 suicide bomb attacks this year that inflicted large civilian casualties. Militia groups that include the Taliban, the report stated, have begun to kidnap foreigners and target nongovernmental organizations, UN workers, and others.
---