Pakistan's 'Gandhi' party takes on Taliban, Al Qaeda
The Awami National Party, which leads the ruling coalition in the crucial North West Frontier Province, espouses a nonviolent approach to tackling extremism.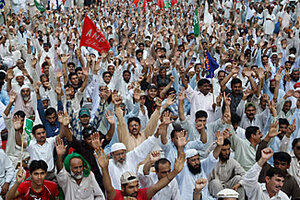 Athar Hussain/Reuters
In following the will of its people by attempting to find a negotiated solution to mounting extremism, the new Pakistani government is wading against American skepticism, the lessons of the recent past, and – some suggest – its own military establishment.
Early indications, however, point to the enormousness of the task facing Pakistan's new ruling coalition. The US is likely to increase pressure after a major State Department report last week concluded that Al Qaeda has rebuilt some of its pre-9/11 capabilities from havens in Pakistan's contested border region with Afghanistan.
Al Qaeda and Taliban militants have the upper hand in these Federally Administered Tribal Areas (FATA), where the region's colonial-era rules limit the new government's authority.
The job of overcoming these obstacles has largely fallen to the overlooked member of Pakistan's new ruling coalition, the Awami National Party (ANP). As Pashtuns, the ANP can talk to the Taliban as ethnic brothers. Yet as disciples of the nonviolence espoused by its late founder, Abdul Ghaffar Khan – the so-called "Frontier Gandhi" and follower of the Mahatma – the ANP is uniquely qualified to attempt peacemaking.
Whether it succeeds could determine whether Pakistan finds the peaceful resolution that a majority of its people so desire or descends back into war.
---