Will Burma (Myanmar) let world in for aid?
The junta sought international assistance quickly but has been slow to give visas to foreign aid workers.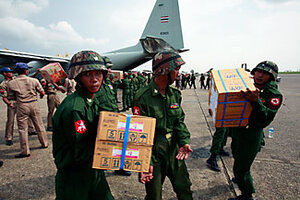 Vorasit satienlerk/Reuters
The military government in Burma (Myanmar) is receiving an outpouring of emergency aid offers from the international community, as the death toll from Saturday's cyclone continues to soar. While some foreign aid workers were told they could enter the country to assess needs and distribute supplies, as of Tuesday – three days after the disaster hit – they were still awaiting visas. The delay raises questions as to how willing the hermit regime is to facilitate relief in the crucial, early stages of this humanitarian emergency.
"We don't know the extent of the damage. We're having trouble contacting our people," says Chris Lom, a spokesman for the UN International Organization on Migration (IOM) in Thailand.
Meanwhile, the regime faced mounting criticism for its alleged neglect in preparing for the disaster. With Burma's tightly controlled state media offering scant details, it was unclear how the government was directing its emergency response.
But the Burmese Army, which mobilized quickly and harshly to suppress democratic protests last September, has been described as slow to offer assistance now by some observers, while state authorities are accused of failing to provide shelter information despite knowing that cyclone Nargis would set down Saturday with destructive force.
"The regime has lost a golden opportunity to send the soldiers as soon as the storm stopped to win the heart and soul of people," a retired civil servant told Reuters. "But where are the soldiers and police? They were very quick and aggressive when there were protests in the streets last year," he said.
---