Burma (Myanmar): An unbending junta still blocks aid
The military regime views foreign aid workers as potential spies or
activists' allies.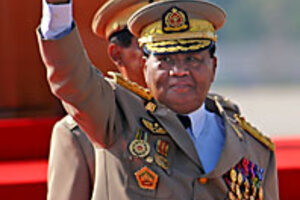 AP
For international aid workers trying to reach cyclone survivors in Burma (Myanmar), it's a race against time to reach up to 1.5 million stricken people. To Burma's reclusive military rulers, though, the calculus of aid looks very different, and the goal remains to keep absolute control over a cowed population.
Capricious, unworldly, and often guided by soothsayers, Burma's aging clique of generals have centralized decisionmaking to such an extent that most civilian state agencies are empty shells. And decades of self-imposed isolation have bred an extreme suspicion of outsiders in a brittle, dysfunctional junta that clings to power by crushing all opposition, say Burmese and Western analysts who have studied the group for years.
That deep-seated distrust was reflected Sunday as the junta, while accepting aid, continued to bar most foreign aid workers with expertise in massive aid distribution. Burma's leaders said they wanted to manage the delivery of aid themselves, despite aid agencies' urgent warnings of escalating threats that could sharply increase the death toll.
The United Nations reported progress in getting some aid through, with roads being cleared and the piped water supply partly restored in Rangoon. The International Federation of Red Cross and Red Crescent Societies (IFRC) said three planes had delivered 14 tons of shelter material, and another seven flights were to arrive Monday with mosquito nets, jerry cans, and other equipment. A US cargo plane was scheduled to deliver aid on Monday, while France was set to deliver 1,500 tons of rice by midweek.
---