In Burma, a frustrated quiet
Without aid coming along Burma's Asian Highway, Burmese head east to find help.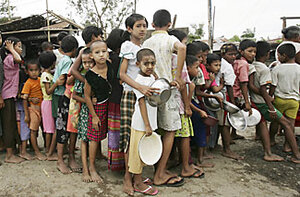 AP
The Asian Highway should be jammed with a convoy of trucks carrying aid supplies from the Thai border west to the devastated Burmese commercial capital of Rangoon, 250 miles away. Instead, boys on inner tubes paddle across the Moei River, delivering Thai goods to Burmese waiting on the other side.
The government of Burma (Myanmar), criticized for blocking foreign aid, is also preventing Burmese doctors, nurses, soldiers, and citizens from helping their compatriots, in sharp contrast to the massive volunteer spirit that swept across Indonesia, Thailand, and Sri Lanka immediately after the 2004 tsunami.
On the Asian Highway, most traffic is coming east from Rangoon as the ripple effect of the high winds and sea, which killed people in the southern delta, spreads across the country.
Burmese truck drivers say 500 to 600 people are fleeing every day from Rangoon, where they lack food and water, to the Karen state capital of Hpa-an, some eight hours away. Residents here in Myawaddy say they expect greater flows of people in coming weeks and months.
But even in eastern Burma, this new wave of refugees is finding food shortages and skyrocketing prices, as sellers profiteer from panic. The Thai government has long wanted to expand and pave the Asian Highway all the way across to the Indian border, as they have upgraded roads from Thailand deep into Cambodia and Laos. Instead, drivers say, the Asian Highway is a narrow sliver of dirt or chipped pavement that only allows one-way flow of traffic to go down the mountain one day, and up the next. Armed soldiers at checkpoints every couple of miles outside Myawaddy turn back foreigners and arrest or fine Burmese without travel permits.
---