Has Russian oil output peaked?
Production dropped this year after reaching a post-Soviet high in October. On Monday, Putin's newly convened cabinet made the issue its first order of business.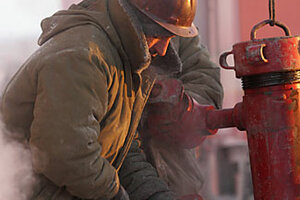 Sergei Karpukhin/Reuters
The Kremlin often touts Russia's image as an "energy superpower," but now the country's oil production is declining. Some say Russia may have already reached peak oil output.
Underscoring the urgency of the issue, Prime Minister Vladimir Putin's new cabinet made its first order of business on Monday the approval of a package of measures to relieve the oil-production crisis.
"It's a good first step," says Natalia Milchakova, an oil and gas analyst for Otkritiye, a Moscow-based brokerage firm. But she adds that "rapidly slowing" oil production, which was growing by more than 10 percent five years ago, isn't "something that can be quickly fixed with political declarations."
As the world's second-largest oil exporter, Russia joins a growing number of top oil suppliers wrestling with how to address declining or peaking production. Like Venezuela and Mexico, Russia is heavily dependent on oil, which accounts for more than two-thirds of government revenue and 30 percent of the country's gross domestic product. Now, Moscow is trying to remedy a situation caused in part by outdated technology, heavy taxation of oil profits, and lack of investment in oil infrastructure.
The Presidium of the Cabinet, as it is officially known, in its inaugural meeting Monday approved tax holidays of up to 15 years for Russian companies that open new oil fields and proposed raising the threshold at which taxation begins from the current $9 per barrel to $15. Oil companies welcomed the measures, but experts say that after almost two decades of post-Soviet neglect, which have seen little new exploration, it may be too little, too late.
---