Nepal faces dilemma over ex-rebels
A peace deal says Maoist forces must join the Army, but military hard-liners question their loyalty.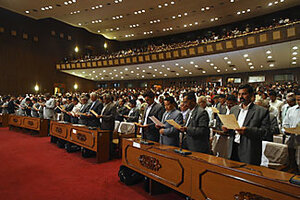 Gopal Chitrakar/Reuters
Kathmandu and Chitwan, Nepal
Nepal's peace process has advanced with relative stability in recent weeks despite major changes it is bringing in the country.
After a surprise win in April elections, longtime Maoist rebels will begin work as the leading political party of the Constituent Assembly, tasked with abolishing the monarchy and writing a new constitution, when it convenes for the first time Wednesday.
While folding ex-rebels into the government has proceeded smoothly, another crucial, more challenging task lies ahead: melding Maoist fighters, indoctrinated for years with revolutionary ideas, into a cohesive national Army.
Opposition leaders and military hard-liners fear that the merger could create an army within an army whose loyalty to the state are in question.
"An ideologically indoctrinated army cannot enter the national army," says Arjun KC, vice-secretary general and spokesman for the Nepali Congress, the country's oldest political party. "The Army has a historic role and must not be an instrument for any party. It must not be polluted."
Merging Maoist forces into the national Army was approved as part of a January 2007 interim constitution meant to draw a line over a brutal 10-year civil war that claimed more than 13,000 lives. The current document was a requirement of a peace deal signed in 2006, which also called for elections held in April for the Constituent Assembly.
In January, the Nepal Army Chief, Gen. Rookmangud Katawal, caused a stir when he spoke out against the integration of Maoist forces. Critics note that Maoist chairman Pushpa Kamal Dahal – known as Prachanda – is poised to lead the government but has yet to officially give up his command of the People's Liberation Army (PLA). They allege that the Maoists' feared youth wing, the Young Communist League, continues to use violence and intimidation and is essentially a paramilitary group.
---