One man's mission to rid India of its dirtiest job
Even though manual scavenging was banned in India in 1993, thousands still perform the task of cleaning, by hand, human waste.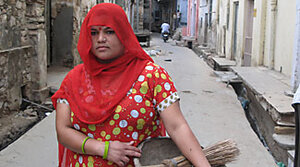 Mian Ridge
Usha Chaumar, a gregarious 40-something with an enormous grin, can pinpoint the exact day she stopped being one of the "untouchables," the Hindu caste that was supposedly abolished in 1950.
It was 2003, and Ms. Chaumar was on her way to work when Bindeshwar Pathak stopped her. She recalls being amazed that a "nicely dressed" man would even speak with someone like her: a manual scavenger. As such, it was her job to clean human waste, by hand, from homes that lack flushing toilets in this dusty town in the state of Rajasthan.
Usually, neighbors crossed the street when they saw her coming with the tools of her trade: a metal pan and wire brush. And even when she had finished her gut-churning work and scrubbed her body clean, she was treated as a pariah.
But Dr. Pathak asked her why she covered her face with her shawl and why she seemed ashamed to talk to him. At the time, Chaumar had no idea she was speaking to the man whose mission it was to end manual scavenging and who would eventually change her life.
Pathak founded an organization called Sulabh in 1970 to eradicate the practice by replacing unplumbed toilets with affordable flush ones, and by giving scavengers training for other jobs.
"Shopkeepers would drop the rice to me – they wouldn't touch me," Chaumar remembers, losing her smile for a moment. "And they made me put my money down, away from them. They threw water over it before taking it."
Today, she earns a living selling homemade pickles and embroidered cloths.
---