Afghanistan: Taliban keeps up pressure with assaults
Militants took control of a strategic district outside Kandahar. Afghan and foreign troops flew to the city in response.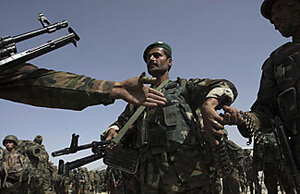 Ahmad Masood/Reuters
Taliban militants destroyed bridges and planted mines in several villages they control outside southern Afghanistan's largest city in apparent preparation for battle, residents and officials said Tuesday.
More than 700 families – meaning perhaps 4,000 people or more – had fled the Arghandab district 10 miles northwest of Kandahar city, said Sardar Mohammad, a police officer manning a checkpoint on the east side of the Arghandab River. Police on Tuesday stopped and searched every person passing on the road.
On the west side of the river, hundreds of Taliban controlled around nine or 10 villages, Mr. Mohammad said.
"Last night the people were afraid, and families on tractors, trucks and taxis fled the area," said Mohammad. "Small bridges inside the villages have been destroyed."
The Taliban have long sought to control Arghandab and the good fighting positions its pomegranate and grape groves offer. From there, militants can cross the countryside's flat plains on a decent road network for probing attacks into Kandahar itself, in possible preparation for an assault on their former spiritual home.
---