India at an impasse over civilian nuclear deal
Communists oppose the pact with the US, which would give India access to nuclear fuel and technology, threatening to bring down the government.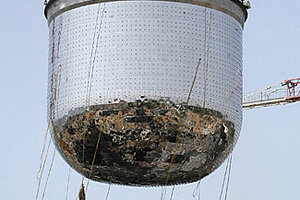 Babu/Reuters
India's government averted a political crisis on Wednesday by delaying action on a key nuclear deal with the United States that threatens to topple the government.
Prime Minister Manmohan Singh is battling his coalition government's Communist allies over a long-delayed deal on nuclear power and technology that he agreed to with President Bush in 2005.
On Wednesday, Mr. Singh's government, which is led by the Congress Party, held a make-or-break meeting with its communist allies. Foreign minister Pranab Mukherjee emerged from the talks to tell reporters the two sides would meet again in a fortnight, thus making passage of the nuclear deal increasingly unlikely.
The nuclear agreement, which would give India access to US nuclear fuel and technology even though it has not signed the nuclear nonproliferation treaty, is at the heart of a new strategic partnership between India and the US.
It is opposed by the Communists who object to close ties with the US on ideological grounds and who argue that it will weaken India's foreign policy and independence.
Singh, however, believes that while the issue is hardly a vote winner, the deal is of seismic importance to India, where an energy shortage threatens to curtail economic growth.
Communists threaten pullout
The Communists, who support the government though they are not part of it, have threatened to withdraw that support if Singh pushes ahead with the nuclear deal.
Singh has sworn to continue with the agreement, which he argues is vital to India's interests. Last week, Indian newspapers carried reports that the prime minister had threatened to resign if the deal failed.
But on Wednesday, the political considerations of the government appeared to take priority over Singh's principle, even though time is fast running out for the nuclear deal.
---