Gay activist in Nepal campaigns against discrimination
Sunil Pant speaks up for disenfranchised groups in court and petitions the government for new constitutional rights.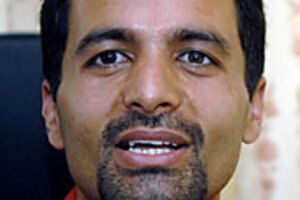 Prakash Mathema/NEWSCOM
Sunil Pant has built a successful gay rights movement – one that has fought against discrimination and violence in this conservative Southeast Asian country.
"It's absolutely astonishing," said Scott Long, who works on issues of sexuality for Human Rights Watch. "Considering how few resources they have and the depth of prejudice they have to fight against, what they've achieved is extraordinary."
The advances are part of a larger social and political ferment brewing in Nepal, one of the world's poorest countries. After 10 years of a Maoist insurgency, a democratic transition is under way.
There is a clear sense that everything is up for grabs as Nepal reinvents itself, a rare moment when groups of whatever stripe – women, ethnic minorities, members of lower Hindu castes – have a shot at leaving their imprint on the fabric of the state.
"We have a golden opportunity to raise our voice and contribute to this country," Pant said. "This is a struggle I think this generation has to do, about being brave and honest."
For years, they were mute. And even now, Nepalese society remains extremely traditional, bound by deeply inscribed values and rigid hierarchies. Conservative mores reign in this majority Hindu country, where millions of uneducated villagers eke out meager livings in near-feudal conditions.
At the beginning, Pant's organization, the Blue Diamond Society, focused solely on health issues. When an official saw the word "homosexuality" in the group's application, he told Pant he couldn't register unless his goal was to turn gay people straight. Pant removed the reference.
---