Abkhazia's tourism fights to regain fabled legacy
Russians are flocking back to the Black Sea beaches, although a string of recent bombings exposes the breakaway republic's ongoing tensions with Georgia.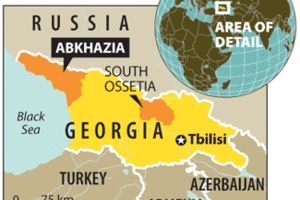 Rich Clabaugh
Abkhazia's richest man, Beslan Butba, is an incurable optimist.
Although the tiny breakaway republic of Abkhazia is blockaded by much of the world, its people live under constant threat of war, and it's technically illegal for foreigners to visit, Mr. Butba is investing his personal fortune in restoring the tourist infrastructure that once drew 6 million Soviet holiday makers annually to its sun-soaked beaches and mountain resorts.
If you build hotels, Butba says, people will come: "Sukhumi is a beautiful city, but it's half destroyed."
A bitter war 15 years ago drove out the Georgian Army, along with some 250,000 ethnic Georgian residents, leaving Abkhazia with de facto independence that is unrecognized by any other country, including the rebel statelet's only friend, Russia.
Butba has already restored one luxury hotel on Sukhumi's fabled sea front and he has another hotel under reconstruction. "The way forward is to show the world that we can rebuild this country," he says, "and then they'll have to accept us."
Though laudable, Butba's hard-driving good cheer could be misplaced.
Once a lush, subtropical garden spot, Abkhazia has been ravaged and depopulated by war. The self-declared republic has a president, a flag, a national anthem, and an army. But most of its people carry Russian passports, the only valid currency is the ruble, and Abkhazia's borders are guarded by a hard-faced contingent of Russian "peacekeeping" troops.
---