China trains 200,000 cheerleaders – for other Olympic teams
The Beijing Organizing Committee has enlisted cheerleaders from the New England Patriots football team to hone the Chinese elite squad's skills.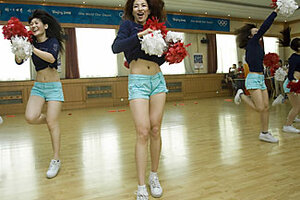 Alexander F. Yuan/AP
Cheerleading, the quintessential American act, is relatively new to China.
But that hasn't stopped the enthusiastic Olympic host from assembling a pep squad of 200,000 volunteers, the largest in Games history, to stir up spirit for any national team that needs it.
It's one of the bubbliest – and perhaps unlikeliest – ways China hopes to wow its international visitors next month.
Then again, this is the country that has recruited 1.5 million Olympic volunteers and spent $40 billion for its coming-out party – both record-breaking efforts.
"It is almost unheard of in the history of the Olympic movement, [recruiting such a] large number of student cheerleaders to cheer for other countries during the Games," says Guoqi Xu, author of "Olympic Dreams, China and Sports, 1895-2008," in an e-mail. "The Beijing Olympic Games has not yet started, but Beijing has created many precedents" already.
Most of the volunteer cheerleaders – which include many retired civil servants – though, have never shaken pom poms in sassy pleated skirts, let alone roused a crowd with victory jumps.
They'll have some simple dance steps under their belt as well as plastic, noisemaking "cheering sticks" to clap together.
But lest the crowd be unenthused by their routines, or props, Olympics organizers are also preparing 28 elite squads of young women chosen through a nationwide competition and from cheerleading or dance institutes.
---