India's latest engineering goal: create Olympians
Steel magnate Lakshmi Mittal is underwriting an ambitious push to put India on the map after decades of Olympic underachievement.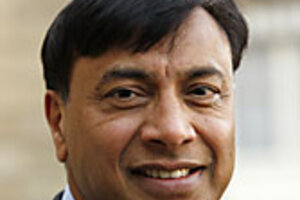 Newscom
NEW DELHI and PATIALA, INDIA
All India hopes that Virdhawal Khade will not become a software engineer. On his broad swimmer's shoulders sit the country's desires to become something other than an Olympic also-ran.
Never has the nation of India won more than two medals in an Olympic Games – and it did that only once. In a country home to one-third of the world's poor, parents dream of children with steady jobs, not Olympic medals. But India is changing, and with the country's rising affluence, athletes such as Khade are finding that, for the first time, they have the support to chase their Olympic dreams.
"We have enormous potential, but we have not always tapped it properly," says Randhir Singh, secretary general of the Indian Olympic Association (IOA). "Our emphasis has not been on sports; our emphasis has been on water and roads. But economically, India is doing a lot better, and we have the surplus money now."
With the help of Lakshmi Mittal, an Indian billionaire desperate for his homeland to make its mark at the medal table, Khade has been given everything he needs – from training in Australia to treatment in South Africa. Former Olympians here say this is unprecedented, and it has given them hope that, at last, this country of more than 1 billion people might soon reverse its history of Olympic underachievement.
---