Indonesia confronts religious intolerance
A government decree regarding the controversial Ahmadiya sect causes a rift between extremists and moderate Muslims as well as secularists.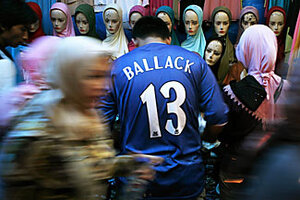 Beawiharta/reuters
Before the arsonists struck under cover of night, the green-walled mosque here looked like countless others tucked into the verdant hills of Java, where Islam first took root many centuries ago. On April 28, hundreds of men, some masked and armed with sharpened sticks, set the mosque ablaze and trashed the adjacent school. Today, the mosque is a charred symbol of intrafaith conflict within Indonesia's still-evolving secular democracy.
The mosque belongs to Ahmadiyah, a minority Muslim sect that has suffered scores of similar attacks elsewhere since 2005 by Islamist groups who accuse its followers of heresy.
Last month, the Indonesian government issued a landmark decree that stopped short of dissolving the sect, as Islamists had demanded, but held out the threat of jail for followers who spread its unorthodox teachings, in particular the belief that Muhammad wasn't the final prophet. Ahmadiyah is planning to challenge the decree, based on a 1965 presidential order, as unconstitutional.
The heated theological debate over Ahmadiyah, which has between 80,000 and 400,000 followers in Indonesia, has divided local Muslims. More broadly, the sectarian spark has drawn attention to the rise of Islamist groups in a multifaith nation of 228 million people, whose tolerance has been tested during a turbulent democratic transition, which began in 1998 when US-backed military strongman President Suharto was forced out.
Groups that led attacks on Ahmadiyah mosques have also used violence to force unlicensed churches to close their doors. The attacks have raised tensions between two faiths in a country where only five percent of the population is Christian.
Government officials say the June 9 decree is a compromise aimed at reducing social tensions in Muslim-majority Indonesia. Analysts say it may not succeed, however, as conservatives continue to push for an outright ban while secularists and moderate Muslims decry the decree as a concession to extremists whose agenda is hostile to Indonesia's non-Muslim minorities.
---