Outpost attack in Afghanistan shows major boost in militant strength
Insurgents' ability to breach the post in Kunar Province is seen as a significant escalation in the fight.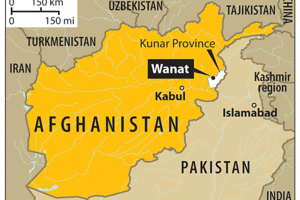 Rich Clabaugh–STAFF
A deadly attack on a remote NATO outpost in the eastern province of Kunar is being viewed as a serious escalation in the fighting between the insurgents and the international forces stationed in Afghanistan – and a possible shift in the insurgents' tactical capability. The high casualties sustained by international forces in recent attacks have also increased the prospects that international troops could launch cross-border strikes into Pakistan with increasing frequency.
In contrast to their traditional hit-and-run tactics and reliance on use of explosives, bombs, and suicide attacks, militants directly engaged soldiers at the outpost, in the village of Wanat, in a style that had not been seen for more than a year. A wave of insurgents attacked the outpost from multiple sides and some were able to get inside, killing nine US troops and wounding 15. The attack was the worst for US troops since June 2005, when 16 Americans were killed after their helicopter was shot down.
"The attack on Sunday was a carefully planned one, with upward of 200 insurgents, to give it weight of force," Capt. Michael Finney, acting spokesman for the International Security Assistance Force (ISAF) in Afghanistan, said in an interview. Captain Finney said the attack was ultimately repelled with on-the-ground fighting as well as air power.
Superior planning
But the battle, analysts say, exhibited the capacity of the insurgents, beginning early in the morning and continuing throughout the day with militants firing machine guns, rocket -propelled grenades, and mortars.
---
Follow Stories Like This
Get the Monitor stories you care about delivered to your inbox.