Why Thai-Cambodian temple dispute lingers
Each side has domestic reasons to prolong the conflict.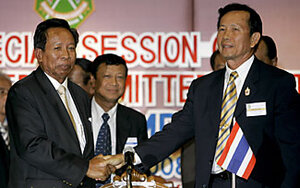 Apichart Weerawong/AP
Senior security officials from Thailand and Cambodia failed Monday to defuse a border dispute centered on a 10th-century temple that has seen hundreds of troops mobilized on both sides and claims by Cambodia of incursions by Thai soldiers.
After a week of saber-rattling over Preah Vihear, which UNESCO recently designated as a World Heritage Site for Cambodia, Thai analysts and Western diplomats say there is a risk that tempers could flare. Neither side wants to be seen backing down, since parties on both sides are using the dispute to further domestic political goals, especially in Thailand.
"Nobody wants to see this dispute escalate," says a Thai military officer, who requested anonymity. "We are doing our best not to let anything happen.... Cambodia understands that the problem arises from domestic political problems in Thailand."
The risk of violence, though, remains slight as the two militaries have a close working relationship. No shots have been fired, and the only injuries came when Thai nationalists clashed last week with local Thai villagers opposed to their campaign against Cambodia's claim to the temple.
Domestic politics fuel conflict
Still, with opposition politicians in both countries playing nationalism cards, the row may prove hard to douse. Five years ago, a rumor that a Thai actress had spoken of taking back Angkor Wat, another temple, sparked anti-Thai riots in Phnom Penh. The Thai Embassy was torched and Thai nationals in Cambodia had to be evacuated by military aircraft.
---