Bombings may threaten India-Pakistan relations
Islamic militants claim to be targeting Indian cities to stoke communal tensions.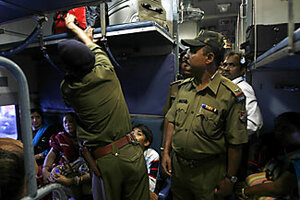 Rupak de Chowdhuri/Reuters
Indian cities are on high alert after a series of explosions ripped through the western city of Ahmedabad on Saturday, killing at least 45 people and wounding 160. The blasts, which occurred a day after bombings in the southern city of Bangalore, are the latest in a string of attacks in India believed to be the work of Islamic terrorists.
A little known group calling itself the "Indian Mujahideen" claimed responsibility for the Ahmedabad bombings, just as it had for an attack in Jaipur in May that killed 60 people. But security analysts and intelligence officials are doubtful about these claims and instead suspect that militant Islamic groups from Pakistan and Bangladesh are behind the attacks.
"The way in which the attack in Ahmedabad took place – the multiplicity of the bombs and the way in which they were coordinated – suggests a level of expertise not yet associated with any Indian group," says Uday Bhaskar, a security analyst and former director of New Delhi's Institute for Defense Studies and Analyses. "It is reasonable to say this group has benefited from external involvement," he adds.
---