Indian weavers sidelined by market forces
As traditional handmade saris go out of fashion, their makers resort to unskilled labor to make ends meet.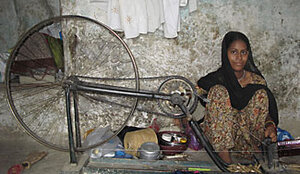 Mian ridge
In a windowless hut lit only by the sunlight pouring through an open door, a bone-thin man bends over his wooden hand loom, weaving a shimmering silk sari with violet, turquoise, and gold threads.
The beautiful six-meter-long garment will take 10 days to complete and will fetch the weaver, Abdul Majid, 600 rupees (approximately $14), which is little more than he would have earned for the same work a decade ago.
Diminishing demand for handwoven saris coupled with competition from power looms – which belt out several garments a day – in other parts of India as well as China have left the 300,000 hand loom weavers of Varanasi, a city in northern India, wretchedly poor. Once prosperous, craftsmen like Mr. Majid are now struggling to survive.
The increased competition also affects Majid's family: beside him, his sweet-faced, 7-year-old son, Ashraf, helps him weave the leaf pattern running down the sari's edge.
Nearby, his 15-year-old daughter, Rakshanah, is deftly spinning thread on a foot-powered wheel that appears to have been manufactured out of an upturned pedal bike.
Neither child has ever been to school, says Majid's tired-looking wife. Like most weavers' children, their labor is needed at home.
The Varanasi-based People's Vigilance Committee on Human Rights says that a number of weavers and their children have died of starvation in the city in recent months.
"It is so difficult to feed the family," says Majid, who himself looks undernourished. When he completes the sari he is painstakingly weaving, the proud artisan admits that he has no more work. "I don't know what will happen next."
---