Pressure builds on Pakistan's Musharraf
The ruling coalition has vowed to move forward with an impeachment process against the president. Even some of the unpopular leader's allies are urging him to quit.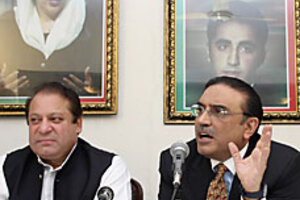 Reuters
Pakistan's government has vowed to start impeachment proceedings against President Pervez Musharraf Monday, sparking concerns that a protracted constitutional crisis could distract Pakistan's four-month-old government from urgent matters, including a mounting pro-Taliban insurgency and a tumbling economy.
A session of the National Assembly, Pakistan's lower house of parliament, has been scheduled Monday to initiate proceedings against Mr. Musharraf, the long unpopular president whose power has diminished since the new government took over.
Many here hope that the president will resign. Yet even if Musharraf does step down, political debate for the coming weeks will be dominated by the question of who will take his place. "They will have to elect a new president – and a new squabble will begin," says Najam Sethi, editor in chief of the Lahore-based Friday Times newspaper.
The case for impeachment
Musharraf, who seized power in a military coup in 1999, resigned as Army chief in November after being reelected to serve a five-year term as president.
---