Kashmir violence reignites sectarian tensions
The pro-independence protests in the Muslim-majority state are threatening India-Pakistan peace talks.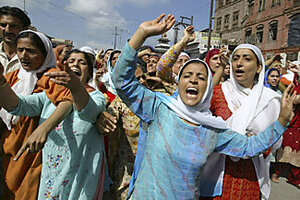 Mukhtar Khan/AP
During protests this week in Indian-held Kashmir, at least 20 people have been killed and more than 500 injured. This violence is part of a backlash to the blockade by Hindus last week of the road linking the Kashmir Valley with the rest of India.
The protests – the largest in Kashmir in two decades – ostensibly began with a row over a land transfer. But they have now widened into a pro-independence campaign that threatens to revive sectarian tensions and undo peace talks between longtime rivals India and Pakistan.
Trouble began when the government of India's only Muslim-majority state announced in June that it would transfer 99 acres of land to a religious Hindu group. Muslims angrily protested the deal, causing the government to back down. But the retraction provoked new protests – and the road blockade – from the state's Hindus.
Campaigners seeking independence for Kashmir from Indian rule are now using the land transfer issue to whip up anger against occupation in hopes of reviving the 20-year-old struggle that has somewhat deflated in recent years. This is in part due to internal feuding between separatists and also because Pakistan, which also holds part of Kashmir, has reduced support to Kashmiri militants amid peace talks with its neighbor.
There are fears that those peace talks will be damaged by Kashmir's latest troubles. On Tuesday, Pakistan's foreign minister, Shah Mehmood Qureshi, condemned "excessive and unwarranted use of force" in Kashmir.
The Indian foreign ministry, in turn, said such comments did not "contribute to creating the atmosphere necessary for the dialogue process between India and Pakistan to move forward."
But the peace talks might be threatened by much more than a resurgent independence movement. Mounting militancy in Pakistan, the bombing of India's embassy in Afghanistan – which India blamed on Pakistan – and Pakistan's current political crisis constitute greater obstacles.
---