Afghan officials clamp down on the press
Government agencies are intimidating and arresting journalists. The crackdown marks the decline of a hard-won, post-Taliban-era achievement: press freedom.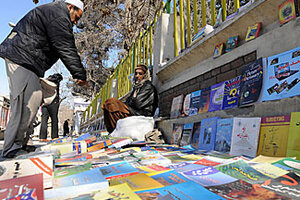 Shah marai/AFP/getty images
Naseer Fayaz, one of Afghanistan's most famous television presenters, is used to fans and other well-wishers coming by the office. The host of a popular weekly program, "The Truth," his exposés of government malfeasance have won him awards as well as a devoted following. But after a recent episode of the show that was especially critical of the government, Mr. Fayaz received unexpected visitors: members of the Afghan secret police.
"They questioned me and the next day arrested me," he says. "I was kept in a cell for two days. They kept telling me I should quit working in the media."
After protests from numerous Afghan media groups and global organizations, such as Amnesty International, Fayaz was released. But media groups say that the incident is the latest in a trend of increasing intimidation of Afghan journalists by the government.
In fact, the Afghan government is responsible for at least 23 of the 45 reported incidents of intimidation, violence, or arrest of journalists between May 2007 and May 2008, according to the Nai Center for Open Media, an Afghan nongovernmental organization.
The figure represents a 130 percent spike from the same period the year before, when just 10 cases were reported. Since May, 22 incidents of press harassment have been reported, nearly a 60 percent jump from the same period last summer.
---