Russian troops slow to leave Georgia
NATO said Tuesday that it 'cannot continue with business as usual' with Russia until Russia removes its troops. Meanwhile, Georgians struggle to stay safe and get food.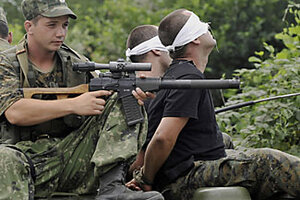 Bela Szandelszky/AP
Two days after Russian President Dmitry Medvedev announced that his country's troops would begin withdrawing from Georgia, there's little evidence of a pullout, with Georgians in occupied territory struggling to stay safe and get food.
A few hundred meters north of Georgia's ransacked Army base in the central Georgian city of Gori, Russian troops on Monday were digging trenches to fortify an artillery battery.
The troops also have detained Georgian policemen and continue to block the only highway linking west to east Georgia. And Russia's presence in Georgia is not limited to its military. Russian broadcasts have replaced Georgian TV in Russian-occupied cities such as Gori.
"For four days all we've seen is Russian TV. They make us Georgians look like such animals," says Gori resident Zoya Lazarishvili.
One column of Russian tanks and armored vehicles left Gori on Tuesday, but Russian officials said the main withdrawal would not happen for days to come.
Russian soldiers took 20 Georgian troops prisoner at a key port in western Georgia on Tuesday and commandeered American Humvees used in US-Georgian military exercises in the past few years.
NATO ends 'business as usual'
The developments came as ministers of the 26-member North Atlantic Treaty Organization (NATO), meeting in Brussels, said the alliance "cannot continue with business as usual" with Russia until it had fully pulled out of Georgia. [Editor's note: NATO was corrected from 'American' to 'Atlantic']
---