Nepal's ex-guerrillas take on civilian rule
Former rebel leader Prachanda – or 'the fierce one' – now leads the assembly rewriting the Constitution.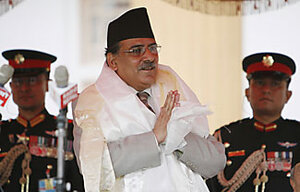 Gopal Chitrakar/Reuters
In the past four months, Nepal has seen its longtime Maoist rebels come to power and its 240-year-old monarchy abolished.
But even bigger changes loom now that former rebel leader Pushpa Kamal Dahal – whose nom de guerre, Prachanda, means "the fierce one" – holds high civilian office, after being sworn in as prime minister Monday.
That means the man who led a violent, decade-long insurgency that killed some 13,000 people is now tasked with healing the country's deep divisions and strengthening the rule of law, not to mention addressing rising food and fuel prices and integrating its 20,000 guerrillas into the Army.
Though the Maoists rightfully took power after winning the most seats in an April election, plenty of Nepalis worry about how the ex-rebels – who have no real track record of governance – will lead.
A call for change...
After their surprise election victory last April, the Maoists became the largest party in the 601-member special assembly that is tasked with writing a new Constitution within the next 18 months. They hold 220 seats.
The vote and the Constitution are part of a peace agreement signed in 2006 that ended Nepal's brutal conflict. The newly elected assembly also abolished the monarchy in May, as required in the deal, and Nepal was declared a republic.
The Maoists' success came not just from Maoist sympathizers, but also from Nepali youths who wanted a new political force in power after seeing former political parties not deliver results for decades, says Krishna Khanal, a political scientist at Nepal's biggest university, Tribhuvan University.
---