Sri Lanka advances on rebel base
While the military is making gains on the Tamil Tigers, it could become mired in guerrilla attacks.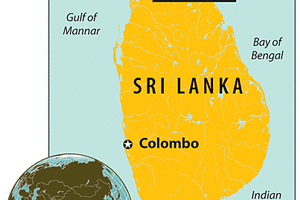 Rich Clabaugh–STAFF
After 25 years of fighting and 70,000 casualties, Sri Lanka's military has won a hard-fought upper hand against separatist Tamil Tigers – and now vows to break their northern stronghold by year's end.
Yet despite these gains, government claims that the end to one of South Asia's longest-running civil wars is near may be premature: Even if the Tigers' conventional fighting forces fall apart, the group can prolong the conflict by turning to guerrilla tactics and feeding off ethnic Tamils' discontent against the government. Meanwhile the military's intensified campaign has caused the humanitarian crisis to swell.
"As an organization that started as a small guerilla group, the [Tigers] will retain [their] capacity to go back to their origins," says Jehan Perera, director of the National Peace Council of Sri Lanka, an independent advocacy organization. "The havoc that even a small group of determined persons can do is inestimable."
Nearing the Tiger stronghold
The separatist group, called the Liberation Tigers of Tamil Eelam (LTTE), has repeatedly defied heavy odds and predictions of imminent defeat since they formed in the 1970s to fight for an independent Tamil homeland in Sri Lanka's north and east. But even government critics agree that the latest military offensive has tremendous momentum.
---