New helmsman for Pakistan's war on terror
Asif Ali Zardari leads the race to replace Musharraf in Saturday's presidential election.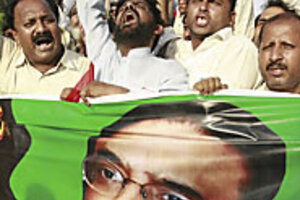 Asim Tanveer
Saturday's presidential election in Pakistan looks set to put a nation coping with Al Qaeda and Taliban strongholds into the hands of Asif Ali Zardari.
Like his predecessor, Pervez Musharraf, a strong US ally but an unpopular figure who resigned in August, Mr. Zardari has expressed strong support for fighting terrorism. But his record on democratic reform is less convincing so far.
Without such reforms, which would weaken Zardari's powers as president, "the anger which was against Musharraf will be against Zardari," says Khalid Rahman, an analyst at the Institute of Policy Studies in Islamabad. America does not want Pakistan to return to the volatility of Mr. Musharraf's last year in power.
With Musharraf gone, US officials have focused more on establishing ties with the Pakistani Army than with its new civilian government. Chairman of the US Joint Chiefs of Staff Adm. Mike Mullen has met Army chief Gen. Ashfaq Kayani five times since October.
---