Nano stalled as India juggles factory vs. farm
Tata Monors hasn't resumed production of its $2,500 car, even though protests against the Nano factory ended Sunday after farmers were promised more compensation.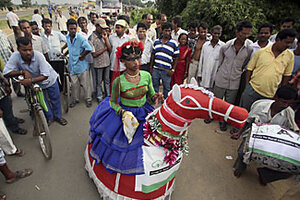 Jayanta Shaw/Reuters
The protests that threatened the roll-out this year of the world's cheapest car, the Nano, ended after archrival politicians in the Indian state of West Bengal reached a last-minute deal Sunday.
But the future of the Nano – as well as the broader issue at the heart of the upheaval – remains unresolved. Construction of the Nano did not resume Monday. Tata Motors, maker of the Nano, said it was not convinced that there is "a long-term congenial environment for smooth operations."
The statement underlines the depth of emotion surrounding the question that ignited the agitation in West Bengal and persists elsewhere: How should uneducated farmers be compensated when their land is taken for India's industrial growth?
It is a topic that straddles the fault line of new and old India – new megaprojects that bring fabulous wealth to a few but few benefits to local farmers, who lack the skills to work there. When these two worlds meet, and farmers feel compelled or coerced into selling their lands, the result is anger and, occasionally, violence.
Last week, Tata shut down its Nano plant in Singur, citing "continued confrontation and agitation at the site."
The deal struck Sunday between West Bengal Chief Minister Buddhadeb Bhattacharya and his main political rival, Mamata Banerjee, seemed to remedy this. She called off her protesters; he agreed to find 220 acres of land for the displaced farmers who refused the government's compensation package.
---