Afghan civilian death toll undermines U.S. support
Afghan civilian deaths rise 39 percent. Secretary of Defense Robert Gates pledges to do more to solve problem.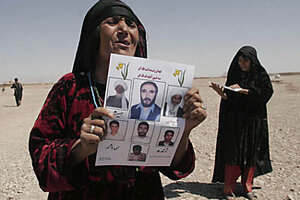 Fraidoon Pooyaa/AP
In a surprise visit to Afghanistan on Wednesday, US Secretary of Defense Robert Gates pledged to do more to prevent civilian deaths from military operations. Mr. Gates's vow comes on the heels of a new UN report saying that the number of civilian casualties jumped by 39 percent in 2008, fueling controversy about the West's role in the country.
"While no military has ever done more to prevent civilian casualties, it is also clear that we have to work even harder," Gates told reporters.
Nearly 1,500 civilians have been killed by either the Taliban or NATO and US forces so far this year, the UN Office of the High Commissioner for Human Rights said on Tuesday. More than half of those deaths are attributed to the Taliban. And US Air Force data suggests that its bombing accuracy is actually improving.
But the UN findings come at a time of rising public criticism after a series of US and NATO aerial bombing raids killed large numbers of Afghan civilians. "Civilian casualties is becoming the main issue in the relationship between the West and Afghanistan," says Nasrullah Stanikzai, lecturer at the Faculty of Law at Kabul University. If the trend of high levels of casualties continues, he says, it could drive a permanent wedge between Afghans and the US.
---