Pakistani Taliban suspected in Marriott Hotel blast
Saturday's massive truck bombing, which killed at least 50 people, is seen as a warning to the Pakistani government over its cooperation with the US.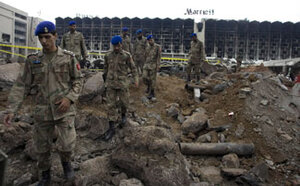 Anjum Naveed
The massive explosion that devastated the Marriott Hotel in Pakistan's capital, Islamabad, Saturday – killing at least 53 people and wounding hundreds – is being seen as a warning from Islamist militants over the Pakistani government's cooperation with the United States.
The hotel, which is popular with both diplomats and other foreigners, was struck by at least one truck filled with more than a ton of explosives in one of the country's worst acts of terrorism. The Czech ambassador and two Americans and about a dozen foreigners were among the dead.
"This was definitely a clear signal that this is no longer a safe place for foreigners, especially Americans," says Ayesha Siddiqa, an independent security analyst based in the city. "And it's a message to the Pakistani government: 'Can you handle us?' "
Though there was no immediate claim of responsibility for the attack, the main suspect is the Pakistani Taliban, which is made up of myriad Islamist militant groups and is believed to be linked to Al Qaeda.
Last month Ayman al-Zawahri, Al Qaeda's deputy leader, accused Pakistan's political leaders of acting on behalf of the US and called on his followers to rise up against them. But Saturday's explosion is also expected to exacerbate tensions between the US and Pakistan over how aggressively Pakistan is perceived to be cracking down on militants. A rising wave of violence has killed nearly 1,300 people in Pakistan this year alone.
---