Anti-Christian attacks flare in India
Some see a government hand in the fanatical Hindu anger against a minority and its converts.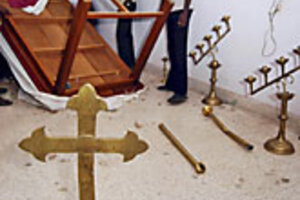 SK Mohan
With its glinting high-rises and harried executives in designer suits, Bangalore – Silicon Valley of the subcontinent and capital of Karnataka State – is an icon of the "new India."
But the city has shown a less presentable side in recent days, with a rash of attacks by Hindu fanatics on Christians. On Monday, stone-throwing mobs vandalized two churches, bringing the number of church desecrations in Karnataka to more than 20 in a week.
The attacks are sparks of a conflagration of anti-Christian violence burning across India that many fear will spread further in the run-up to national general elections, scheduled for May.
While Hindu nationalists claim that the unrest is caused by missionaries forcing conversions on Hindus, Christians – and most secular observers – say the violence is politically motivated, designed to win votes for the Hindu nationalist Bharatiya Janata Party.
The BJP has grown to be the main opposition in the last two decades – a triumph many attribute to its focus on Hindutva, an ideology that holds India is a Hindu nation and religious minorities outsiders.
But wretched poverty and a lack of basic necessities – from education to healthcare – have also played their part in what many describe as the worst anti-Christian violence in India since independence in 1947.
The rioting began in the eastern state of Orissa in August, following the murder of a hard-line Hindu priest. Police accept the claims of responsibility from Naxalite rebels – atheist Maoists – but Hindu groups blame Christians.
---