Pakistan's fresh resolve in latest battle against Taliban
The Army has a mandate to continue its offensive in the Bajaur tribal area until it's won.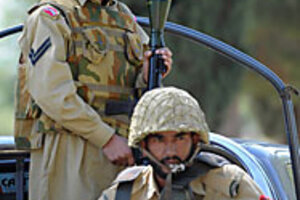 Aamir Qureshi/AP
For Pakistan, moments of success have been few in the fight in its northwestern tribal area against members of the Taliban and Al Qaeda.
But with militants there carrying out increasingly brazen attacks in Pakistan's cities, and stirring trouble in Afghanistan – prompting the United States to pressure Pakistan to act – Pakistan appears to be taking its home-grown terrorist threat more seriously.
There is cautious hope among military planners and observers here that the current military offensive in Bajaur – one of seven districts in the Federally Administered Tribal Areas – will be a much-needed turning point in Pakistan's war against domestic militancy.
In previous FATA offensives, the Army has stopped partway through and signed truces that ultimately allowed militants to regroup.
This time the Army has orders to fight until they control the area, says Ikram Sehgal, the publisher of Defence Journal who served in FATA as an Army major. "They're operating with a clear mandate now, which makes all the difference," he says.
The number of troops fighting in Bajaur is comparable to that of earlier offensives, Mr. Sehgal continues, adding that "this number is just about right."
---