Violence escalates in Thai protests
Efforts to oust the prime minister included barricading legislators in Parliament for five hours on Tuesday.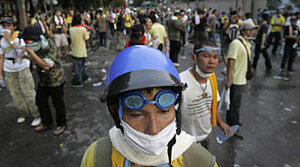 David Longstreath
Thousands of royalist protesters blockaded the Thai Parliament Tuesday, sparking violent clashes with riot police that injured more than 100 people. The unrest marked an escalation of a four-month campaign to oust a government that was elected by rural and urban poor but is bitterly opposed by influential elites in Bangkok.
Legislators who were bused into the Parliament after police cleared a path found themselves trapped inside the building, as protesters took back the streets. As protesters poured into the area, police used tear gas to drive them back, and eventually led lawmakers out a back exit.
Earlier, Prime Minister Somchai Wongsawat, who took office only three weeks ago, gave his inaugural speech to a half-empty Parliament before being escorted away. Protesters have insisted that he must resign, and dissolve Parliament, and that he has no legitimacy to lead the country, which has split along social and regional lines during three years of turmoil punctuated by a bloodless coup in 2006.
So far, military chiefs appear to be staying above the fray. Four trucks of soldiers were deployed Tuesday evening near the Parliament in what appeared to be symbolic support for the police. Commanders said publicly they weren't preparing to seize power.
Tuesday's violence was the worst in a month and is a setback for tentative efforts to reconcile the two sides. Deputy Prime Minister Chavalit Yongchaiyudh, a retired Army general who had sought to broker peace talks with the protesters, resigned Tuesday.
Protesters sustained most of the injuries, including leg amputations blamed on tear gas canisters, police say. Protesters claim other explosives were used. But at least two policemen were reportedly shot in an afternoon clash. Another policeman was stabbed by a flag and needed surgery, the Bangkok Post reported. A man also died in a car explosion nearby, though it isn't yet clear if the incident was related.
---