Some Afghans live under Taliban rule – and prefer it
In provinces just south of Kabul, the insurgents have a shadow government that polices roads and runs courts.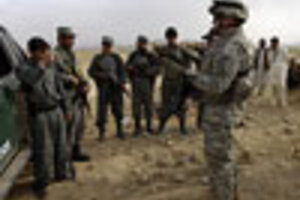 Andy Nelson/The Christian Science Monitor/FILE
After a gang of thieves had continually terrorized an Afghan neighborhood near here months ago, locals decided they'd had enough. "We complained several times to the government and even showed them where the thieves lived," says Ahmad, who goes by one name.
But the bandits continued to operate freely. So the villagers turned to the Taliban.
The militants' parallel government here in Logar Province – less than 40 miles from Kabul, the capital – tried and convicted the men, tarred their faces, paraded them around, and threatened to chop off their hands if they were caught stealing in the future. The thieves never bothered the locals again.
In several provinces close to Kabul, the government's presence is vanishing or already nonexistent, residents say. In its place, a more effective – and brutal – Taliban shadow government is spreading and winning local support.
"The police are just for show," one local says. "The Taliban are the real power here."
Widespread disillusionment with rampant crime, corrupt government, and lack of jobs has fueled the Taliban's rise to de facto power – though mainly in areas dominated by fellow ethnic Pashtuns. Still, the existence of Taliban power structures so close to Kabul shows the extent to which the Afghan government has lost control of the country.
"This is a major problem for them," says Habibullah Rafeh, a political analyst with the Afghanistan Academy of Sciences. "Even though the Taliban can't capture Kabul militarily because of the strength of the international forces there, the government can't stop them from operating freely just outside of the city."
---