To fight Taliban, US eyes Afghan tribes
Some tribes have forced insurgents from their area, but many risks remain.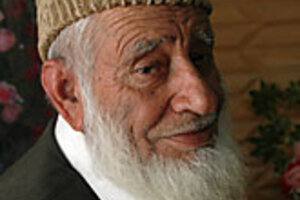 Mark Sappenfield/The Christian Science Monitor
With sticks, knives, and 600 men drawn from his own tribe, Hajji Malik Zahir did what the armies of Afghanistan and America could not: He drove the Taliban from his district.
Now, the United States increasingly wants to encourage other tribal elders in Afghanistan to do the same. In what is taking shape as a substantial policy shift, it wants to use tribes to bring law and order to the vast areas of the country beyond the government's authority.
The successful uprising of tribal chiefs in Iraq against Al Qaeda – the "Anbar Awakening" – has created momentum, as has endemic corruption in President Hamid Karzai's government.
The government is not competent enough to deal with the dire threats now facing Afghanistan, says Seth Jones, an analyst at the RAND Corp., a security consultancy in Arlington, Va., that works with the Pentagon. "This means working with the tribal leaders," he says.
---