Gunfire erupts along Thai-Cambodia border
A disputed border region further strains the Thai government, which also faces protests at home.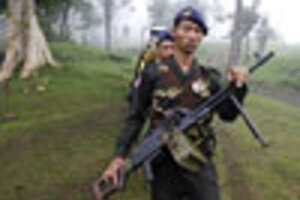 Heng Sinith/AP
In a reprisal of a simmering border row, Thai and Cambodian troops exchanged gunfire Wednesday near a hilltop Hindu temple whose disputed ownership prompted a military standoff in July. The clash is a setback for efforts to negotiate a settlement to the longstanding territorial claims, but seems unlikely to spark a wider conflict.
Cambodia said two of its soldiers had died in the fighting, while Thailand said it had five men injured. Cambodia also said it had captured 10 Thai soldiers during the clash, which erupted Wednesday afternoon, one day after Cambodian Prime Minister Hun Sen issued a strongly worded ultimatum for Thailand to pull back troops from the disputed area.
However, Thai and Cambodian government officials said publicly Wednesday that the dispute can be settled peacefully through talks. A Thai intelligence official said a joint military border committee would be convened Thursday in a bid to calm tensions. Similar measures were used after troops flooded the area in July when anger flared in Thailand over the UN's listing of Preah Vihear temple as a Cambodian heritage site.
Tensions rise in testy relationship
But in a sign of the testy relationship between the two neighboring countries, Thai Foreign Minister Sompong Amornvivat urged Thai nationals to immediately leave Cambodia. Military fighter jets and transport planes are already on standby for evacuations.
---