Afghanistan's emerging antiwar movement
Afghan NGOs are teaching human rights and Islamic law along with calls to end the war with a national peace jirga.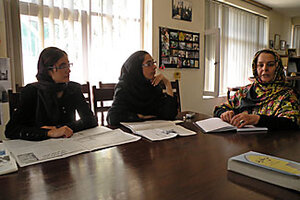 Anand Gopal
In a musty room near the edge of town, a group of bearded men sit on the floor and heatedly discuss strategy. The men are in the planning stages of an event that they hope will impact Afghan politics – a peace jirga, or assembly, that will agitate for the end of the war between the Taliban and Afghan government by asking the two sides to come to a settlement.
"People are growing tired of the fighting," says Bakhtar Aminzai of the National Peace Jirga of Afghanistan, an association of students, professors, lawyers, clerics, and others. "We need to pressure the Afghan government and the international community to find a solution without using guns."
Mr. Aminzai is not alone in his sentiments. As violence and insecurity grow in this war-ravaged nation, a broad network of peace activists have been quietly pushing for negotiations and reconciliation with the Taliban.
This push coincides with recent preliminary talks in Saudi Arabia. The Saudi government hosted a secret high-level meeting in September with former Taliban officials and members of the Afghan government. The event was intended to ultimately open the door to direct talks with the Taliban.
Analysts interviewed say that the majority of Afghans favor some sort of negotiated settlement between the warring sides, but many peace activists are critical of the Saudi talks. "We want reconciliation with the Taliban through a loya jirga," or grand assembly of Afghans, says Fatana Gilani, head of the Afghanistan Women's Council (AWC), a leading nongovernmental organization (NGO) here. "We don't want interference from foreign countries or negotiations behind closed doors," she says.
---