Cash-strapped Pakistan finds few friends in time of economic need
Pakistan asked the IMF for a loan Wednesday, after allies rebuffed its requests for aid.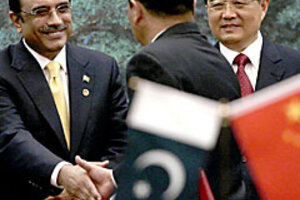 Elizabeth Dalziel/AP
With Pakistan forced to ask the International Monetary Fund (IMF) Wednesday for help avoiding bankruptcy, its government is learning that having friends in high places doesn't always pay.
Pakistan, a frontline country in fighting global Islamic militancy, counts wealthy nations like the United States, China, and Saudi Arabia among its friends – all of whom understand that Pakistan's shortage of funds will severely handicap its already weak government.
Yet its tumbling economy has caused even its strongest allies to so far resist bailing it out.
"If the economy is out of line," says Haroon Sharif, a senior adviser for the British Department for International Development in Islamabad, "any lender will think twice before handing out cash."
Pakistan, a country that had boasted some of the highest GDP growth rates in the world since 2004, now requires up to $5 billion in immediate cash injections to avoid defaulting on sovereign debt due for repayment next year.
---