Asia defends currencies even as stocks fluctuate wildly
Large foreign-currency reserves and overhauled regulatory systems have helped stability. Investors also seem to be better targeting which currencies are at risk.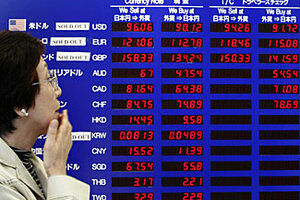 Issei Kato/REUTERS
Asian stocks snapped a losing streak Tuesday, after scraping multiyear lows in recent weeks. Japan's Nikkei index closed up 6.4 percent, as South Korea saw a 5 percent hike in its main index. Hong Kong's volatile market posted double-digit growth a day after falling by almost as much.
These fragile gains come in the face of increasingly gloomy forecasts for the region's export-led economies as the US and other rich countries slip into recession. As in other emerging markets, among the heaviest sellers of Asian assets have been US hedge funds and other foreign investors who need to raise cash in a hurry. This flight of foreign capital has dented confidence in stocks, bonds, and other assets.
But while markets have taken a pounding, the outflow of foreign money hasn't triggered a wholesale collapse in Asian currencies, as it did a decade ago when financial panic last swept the region. With the exception of South Korea and India, most Asian currencies have suffered only modest losses against the resurgent US dollar. By contrast, Brazil's real has fallen about 30 percent in the past three months.
---