Quake aid for Pakistan's neglected
The government's disaster relief in Balochistan comes amid ongoing efforts to reach out to the troubled province.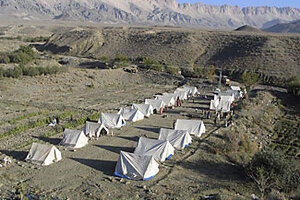 Saeed Ali Achakzai/Reuters
The Pakistani government rushed to deliver tents and other emergency aid to its underdeveloped Balochistan Province, where a 6.4-magnitude earthquake Wednesday left 200 people dead and 15,000 homeless.
Its relief work there continues an effort by the new government to reach out to this troubled southwestern region, the poorest of Pakistan's five provinces and home to a longtime separatist movement.
"While these catastrophes bring undeniable misery, they also bring unprecedented opportunity for rehabilitation which can easily be turned into actual development," says Rashida Dohad, cofounder of the Omar Asghar Khan Development Foundation, which has operated in northern Pakistan since a deadly earthquake there in 2005.
"There is an acute feeling in the underdeveloped province of its marginalization from the rest of the country," an editorial in the country's largest English daily, The Dawn, said on Thursday. "Failure to respond to its needs at a time of crisis will only intensify such feelings of alienation."
The earthquake struck the northern part of Balochistan, near Afghanistan, before dawn on Wednesday, destroying as many as 1,500 homes and triggering landslides.
"We were tossed out of our beds like dolls," Waheed Akram, a college administrator, describes over the phone from Quetta, the provincial capital, about 40 miles south of the epicenter. As aftershocks continued through the night, he says, he joined thousands others in the city who spent the frigid night outdoors in makeshift tents, cars, and parks. Some slept in the back of trucks.
---