Afghans find modest prosperity in once-banned trade – milk
The country's first dairy cooperative has helped farmers more than double their incomes.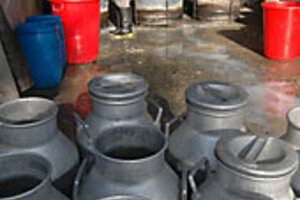 Mark Sappenfield/The Christian Science Monitor
Zakaria Ahmadzai's dream of saving thousands of Afghans from war and poverty sounds a bit far-fetched at first.
He wants to revolutionize Afghanistan's dairy industry, creating as many as 100,000 jobs. It is an ambitious plan, considering that the industry essentially did not exist seven years ago, and that back then Mr. Ahmadzai was a manual laborer earning $3 a day.
But the nascent dairy trade has made entrepreneurs of men like Ahmadzai, now head of Afghanistan's first dairy cooperative. His income has doubled since he began selling milk from his three cows – a practice once forbidden by the Taliban. Other dairy farmers' salaries have increased 10-fold since 2002 to about $545 – more than twice the average yearly income here.
To Ahmadzai, it demonstrates how – with international help – Afghans can find alternatives to opium or insurgency.
"This changes the life of our people," he says. "If they can have money easily with peace, why do they need to fight?"
The Afghan economy is growing at double-digit rates – 13.5 percent during the past year, according to the World Bank. At the same time, billions of dollars of foreign aid is pouring into the country. Yet neither the economic growth nor the aid is having a substantial impact on the lives of ordinary Afghans, 85 percent of whom make a living in agriculture.
A wide array of aid projects has targeted agriculture – from pistachio growers in the north to pomegranate farmers in the south. Some have had success, many have not – for a variety of reasons, ranging from a reluctance among aid organizations to work beyond secure compounds in Kabul to an unwillingness to embark on long-term projects.
---
Follow Stories Like This
Get the Monitor stories you care about delivered to your inbox.