Fragile success against Afghanistan's opium economy
Poppy cultivation fell by about 20 percent, after two years of record harvests.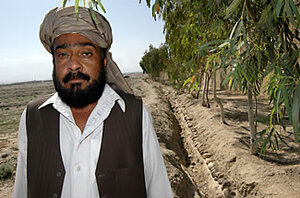 Mark Sappenfield/The Christian science Monitor
A year ago, the province that surrounds this dusty town of onion farmers was Afghanistan's No. 2 producer of opium. Today, Nangarhar has eradicated opium entirely.
It is the most dramatic reversal in a year offering the first hints of progress against opium, with harvests declining nationwide.
Yet in the chalk-white fields above Ghani Khel, tribal elder Pat Zirak Mohammad predicts that Nangarhar's opium ban will not last. To grow anything other than poppy, his people need a dam to harness water from seasonal floods. But he is skeptical that the government will deliver. "If that doesn't happen, our people will again grow poppy," he says.
Through its bold attempts to ban poppy in recent years, Nangarhar has become the preeminent case study on how to wean Afghanistan from its poppy crop. Mr. Mohammad's words point to the difficulty of making success last.
In a country that produces 90 percent of the world's opium, and where opium is tied to rampant corruption and violence, the benefits of such bans are clear.
But for Afghans who, like Mohammad, live in the most desolate parts of a desolate nation, taking away opium fundamentally alters an economy largely built upon it. Many people cannot cope, eventually returning to poppy.
"Dramatic reductions in opium poppy cultivation are difficult to sustain because of their powerful negative impact on the welfare of households," according to a report on Nangarhar by the Afghan Research and Evaluation Unit (AREU), a think tank in Kabul.
---