Afghan Air Corps takes off, slowly
The US is helping rebuild an air force that is badly needed in the vast country.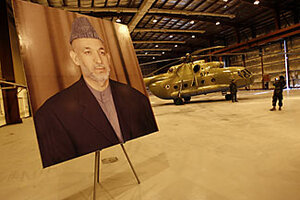 Ahmad Masood/Reuters
Lt. Col. Bryan Harris was not surprised that the Afghan Army's helicopters were punctured by the odd bullet hole. These Soviet-made Mi-17 transports had been the workhorses of more than two decades of unceasing war.
What surprised him was the remedy – not industrial rivets, as American mechanics would use, but old bottle caps.
For Colonel Harris, it was a glimpse of the job ahead. He is here to help Afghans resuscitate their Air Corps – a force that had steadily decayed since its heyday during the Soviet-backed regime of the 1980s.
It is a job with serious implications: The Afghan Army needs an Air Corps to become self-sufficient. But the first order of business, says Harris and others, is to persuade Afghan colleagues to stop scavenging crashed aircraft for spare parts or taking off without even making a flight plan.
"They treat it like it's their car and they're taking it out to the mall," says Col. Todd "Burt" Lancaster, one of the pilot trainers here. "We have to figure out how to change old habits."
They are old habits. The average age of pilots in the Afghan Air Corps is 44.7 years. More than pilots, they are survivors. As different regimes have cycled through Afghanistan, they have remained with their aircraft. In the 1980s they escaped missiles fired by US-sponsored mujahideen. In the early 1990s they outlasted the warlords who brutally fought one another for power. Later they obeyed the often foolhardy commands of the Taliban.
---