Historic buildings lost to India's urban boom
The Lal Mahal – India's oldest surviving Islamic palace – was demolished earlier this month, despite some efforts to better promote preservation.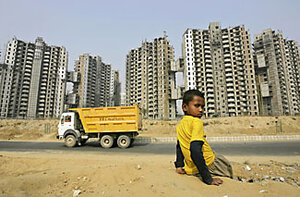 Gurinder Osan/AP
Hidden behind the concrete sprawl of a prosperous New Delhi neighborhood, the Lal Mahal or "red palace" attracted few visitors. Guidebooks neglected to mention that this crumbling sandstone building was India's oldest surviving Islamic palace.
Then, on Nov. 1, within a few hours, the 800-year-old structure was demolished by a private developer. Horrified conservationists complained to the city authorities, but there was little they could do: The Lal Mahal was not on the government's list of protected buildings.
This is a depressingly familiar story in India, where only a fraction of historic buildings are protected by law. And as millions of people move from the countryside to India's cities, cash-hungry property developers are tempted to demolish whatever stands in their way.
The Archaeological Survey of India (ASI), a government body, has a list of more than 3,600 protected monuments that it must protect and conserve.
But the Indian National Trust for Art and Cultural Heritage (INTACH), a nongovernmental, nonprofit organization, says there are at least 70,000 old buildings and monuments that should be granted government protection.
"The Lal Mahal was certainly one of them," says O.P. Jain, a leading conservationist. "It's terrible that this should be allowed to happen to a building of national importance."
He points out that even those buildings that are theoretically guaranteed government protection are at risk.
Last year, India's culture and tourism ministry was forced to admit that 35 of the buildings on the ASI's list had been destroyed. Twelve of them disappeared within a few miles of the ministry in New Delhi, among them a magnificent city gate built by the 16th-century ruler Sher Shah.
---