Bid to split Taliban, Al Qaeda
In Afghanistan, US and NATO reassess their strategy amid concerns that their efforts are failing.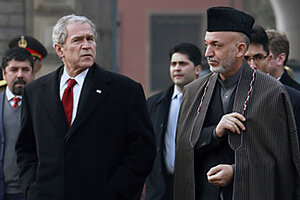 Kevin Lamarque/Reuters
The Afghan government and its allies are reconciling with moderates and isolating hard-liners in a bid to split the insurgency, Western and Afghan officials say.
The idea of wooing moderates has gained traction as violence in Afghanistan has reached record levels this year. The United States and NATO are reassessing their strategy amid a growing chorus of Western officials who say that the international effort here is failing.
"Some ministries have started a program to try to separate Al Qaeda and the Taliban," says Ursala Rahmani, a former Taliban official who has been involved in talks with the government. Mr. Rahmani says that the Interior and Defense ministries are involved in the effort.
"We are trying to exploit the natural tensions that exist between Al Qaeda and those under Mullah Omar," the fugitive leader of the Taliban, adds a senior intelligence officer with the international forces, who spoke on the condition of anonymity.
Some insurgent commanders may be closely aligned with Al Qaeda, which is waging an international, ideologically driven war against the West.
But Afghanistan experts say that most Afghan insurgents fight because of local grievances, including tribal rivalries, poor economic opportunities, and dissatisfaction with the Afghan government and international forces. Many experts say these insurgents have little interest in attacking sites in the West and restrict their concerns to Afghanistan.
---