West prods Pakistan on antiterror fight – with aid
The US is finalizing a $15 billion aid package, Sen. John Kerry told Indian newspapers Monday.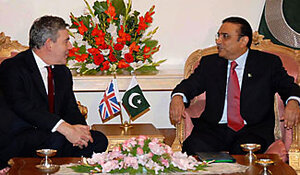 AP
NEW DELHI; and ISLAMABAD, PAKISTAN
When British Prime Minister Gordon Brown stated unequivocally Sunday that Pakistani militants were behind the Nov. 26 attacks in Mumbai (formerly Bombay), Pakistani President Asif Ali Zardari, standing beside him, conspicuously did not concur.
Nearly three weeks after the Mumbai rampage began, the world appears increasingly convinced of the link between Lashkar-e-Taiba, a Pakistani militant group, and Mumbai.
Pakistan, however, is not. It has not seen India's evidence, Mr. Zardari said. With India leading the calls for a crackdown, historic insecurities also come into play, says Laila Bushra, a Pakistani sociologist: "No one … wants to be seen bowing to Indian pressure."
A stalemate is looming. In hopes of breaking it, the United States and Britain are readying as much as $16 billion in aid, hoping money will push the financially troubled nation toward greater action. "Aid can be an effective lever to do this," says M.J. Gohel, a South Asia analyst at the Asia Pacific Foundation in London.
The goals reach beyond the current crisis. The US and Britain want Pakistan to dismantle the entire militant infrastructure it assembled in the 1980s, but which now threatens the state and the world. On his visit, Mr. Brown traced three-quarters of terrorist plots in Britain to Pakistan.
---