Pakistan's journalists: in the line of fire
Security for reporters improved worldwide, but Pakistan remains one of the deadliest places for the profession in 2008.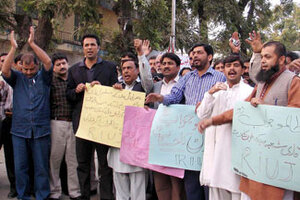 Adil Gill/Newscom
– Ansar Abbasi, one of Pakistan's most popular print journalists, has started taking long winding routes to his office in Islamabad.
In his two decades as an investigative reporter, Mr. Abbasi has taken on the Pakistani bureaucracy, major political leaders, the military, and even the powerful intelligence services. But in recent weeks he's been told by some "well-wishers" to be more "unpredictable" in his movements – a string of recent scoops has put his life in danger, he says.
The death threats against Abbasi are making front-page news, but his is not the only story of a journalist at risk in Pakistan.
Journalists covering sensitive issues – politics, the fight against militants, or most recently the aftermath of the Mumbai (Bombay) attacks – are facing growing pressure from the government, Army, and intelligence agencies and from militants who would "like to control the media's message," says Adnan Rehmat, the director of Internews, a Washington-based media watchdog group.
The Committee to Protect Journalists, a New York-based group that monitors press freedom around the world, reported in December that Pakistan has become one of the most dangerous places on earth for a journalist to report in 2008.
---