Afghanistan and Pakistan take center stage in 2009
Under Obama, the US may send 20,000 more troops and encourage talks with the Taliban in an effort to reclaim the upper hand in Afghanistan.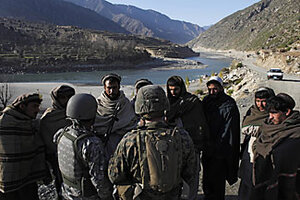 Bob Strong/Reuters
At times in 2008 Afghanistan eclipsed Iraq in levels of violence, and international attention is returning to the country for the first time since 2001. With the Obama administration planning a massive troop increase, Afghanistan and Pakistan look to be at the center of the administration's foreign policy for 2009.
What is at stake?
In 2008, violence reached record levels across the country – there were 50 percent more insurgent attacks in the first seven months of 2008 than in the same period in 2007, according to Agency Coordinating Body for Afghan Relief (ACBAR), a Kabul-based aid organization. Insurgents are "conservatively estimated to be active in over 35 percent of the country," says Nic Lee of the Afghan NGO Safety Office, a Kabul-based nongovernmental organization. The Taliban and its allied movements effectively control large parts to the Pashtun-dominated south and east, including many districts close to Kabul. Nearly as many international troops have been killed in Afghanistan this year as in Iraq, despite the fact that almost twice as many soldiers are deployed in Iraq.
"I won't say that things are all on the right track, especially in the south and east," David McKiernan, the top commander in the country, told reporters earlier this year. "So the idea that it might get worse before it gets better is certainly a possibility."
---